MOUNT EVANS COLORADO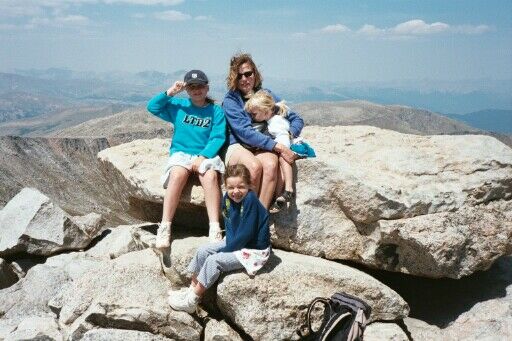 The girls brace against the strong wind atop Mount Evans. It was cold and very windy the day we visited. Mount Evans is a few miles south of Interstate 70 Idaho Springs exit, about an hour west of Denver. It can be reached via car on the Mount Evans Scenic Byway which is America's highest paved automobile road. At 14,264 feet tall, Mt Evans is the 13th highest peak in Colorado and is higher than the more well known Pikes Peak at 14,109 feet.
Mary, Kelly and Katie descend down the quarter mile trail to the parking lot. It was so windy the grit off peoples shoes was driven against our legs - it felt like we were being sandblasted. The road is full of switchbacks and turns with no guard rails! Road was rather busy on this day - lots of cars and bicycles. I have a lot of respect for the dozens and dozens of people bicycling up and down Mt Evans - what a workout!
Read more about Mount Evans at:
Mount Evans.com
Denver University Meyer-Womble Observatory
Tim's Picture Guide to Mount Evans

---

back to: Top of this Page | Family Vacation 2002 Index Page | Travel Log Index | Home


Contact the
Copyright © 2002-2003 Robert P. Anderson