---
GRAND CANYON TRIP 2002
Family Summer Vacation to the Grand Canyon
---
| | |
| --- | --- |
| Title: | Anderson Family Summer Vacation 2002 |
| Point of Departure: | Saint Louis Missouri |
| Destination: | Grand Canyon Arizona |
| Purpose: | Family Summer Vacation |
| States: | Missouri, Kansas, Oklahoma, Texas, New Mexico, Arizona, Utah, Colorado |
| Duration: | 12 days |
| Vehicle: | 2002 Toyota Sienna |
| Odometer: | Start: 9,345 End: 12,870 |
| Distance: | 3,535 statute miles (round trip) |
Day 1 - Thursday 08/08/2002
Travel day from Webster Groves MO to Wichita KS.
We left Webster Groves, Missouri and drove to the Odessa Outlet Mall near Kansas City. We shopped at the Gap, had lunch at Wendy's and headed to Wichita, KS about 12:15pm. We had promised Beth that we would be to her place by 4:00pm. We stopped at Emporia for gas and a bathroom break. We traveled down I-35 to Emporia, caught the Kansas Turnpike to Eldorado KS, then motored west on 254 to the northwest part of Wichita. As we parked on Beth's driveway and turned the car off, I glanced at my wristwatch: it read 4:00pm to the second. It was an uneventful trip. The mileage from our house to Beth's was 450.2.
Some friends of Beth's came by shortly thereafter to examine Mary's beaded jewelry. Later that evening Beth and Karen hosted a bead party for Mary and her company Hooked On Beads. The party was a big success and Karen continued to promote and sell the jewelry to her work friends for the next few days.
During the party the young girls and I visited the park near Beth's and then dined at Dog & Shake. Kerry pushed her straw through her milk shake and it started leaking all over her and the table. The kind women working the counter graciously gave her a new one. Later that evening I drove Beth's friend XXX across town to the hotel where she was meeting her daughter for diner. Afterward I visited the east side Barnes & Noble in search of the following books (one for each girl):

Duck on a Bike by David Shannon
Lulu's Hat by Susan Meddaugh
The Bad Beginning by Lemony Snicket
I found Duck on a Bike and The Bad Beginning which came highly recommended from the young man working in the children's book section. Lulu's Hat was another story - it was recently published and hard to find. Borders on the west side didn't have it either. Mary called a couple independent book stores and found it at XXX. We spent the night at Beth's.

Day 2 - Friday 08/09/2002
Visit Wichita, Travel to Winfield KS
We had breakfast with Beth and just hung out for a while. Grandpa had come to Wichita for out-patient surgery and arrived at Beth's around noon with a Subway sandwich that he was unable to eat because his face and mouth were so numb. We convinced Grandpa to leave his car for Mary to drive and he road to Winfield with us in the van. That also meant he had to see Monsters Inc. with us at the Palace Movie Theatre that afternoon. He was a good sport and only got scared a couple times at the movie. Very good movie that we all enjoyed. After the movie we traveled Winfield to Grandma's and Grandpa's house (52 miles).

Friday marked the beginning of my 25 high school reunion festivities. Joe Dietrick and I met up with Greg and Mugler, Gary and Judy Crabtree at The Prime Place on East 9th Street across the street from Joe's Mom's house for dinner. It was good to see the old gang and catch-up on what people were doing. After diner we met at Toto's Supper Club and talked with many of our high school classmates.

I was pleasantly surprised to see Jan (Dimmitt) Bode there. It turns out that Joe and Jan's husband Gene Bode work in the same field in the Kansas City area, new each other professionally but had never met. After Toto's closed we went to the City Cigar Store and talked some more.

Day 3 - Saturday 08/10/2002
Visit Winfield KS, 25th High School Reunion
Jan and Gene stopped by late morning to say hi to Grandma and Grandpa. They were pleased to see Jan and Gene. For lunch we had a class picnic at Island Park. We stopped by the Burger Station on the way down to get carry-out. Love those chili-cheese burgers.

A few more classmates showed up and visited. The girls played at the playground in between brief periods of rain.

That afternoon we had a little family gathering to have some cake to mark Rob's birthday.

That evening Mary and I attended the class dinner hosted at the Elk's Club. We ate, talked and danced with classmates. It was fun to talk to people and see what they had been up to for the past few years. We left about 10pm as we had a long drive the next morning.

Day 4 - Sunday 08/11/2002
Travel day, Winfield KS to Albuquerque NM.


Our longest travel day of the trip. We left Winfield about 6:30am and stopped in Oklahoma City OK for breakfast at a Waffle House. We stopped for gas in Shamrock Texas, then drove on to Amarillo, to Stanley Marsh's Cadillac Ranch. It's not everyday that you see vintage 1960's Cadillac automobiles buried in an empty field just off the Interstate. We had lunch at a nearby truck stop that had a combo Subway/A & W restaurant. I bought a Rand McNally midsize deluxe road atlas that has a nice spiral edge and very convenient size.

We arrived in Albuquerque about 6:00pm. We traveled about 700 miles in about 11.5 hours. We stayed at a Howard Johnson's motel off of I40, just west of I25. After dinner at XXX we drove south to the http://www.oldtownalbuquerque.com/ Old Town area so Mary could scope out location of a jewelry supply company. Afterward we returned to the motel and went for swim before retiring for the evening.

Day 5 - Monday 08/12/2002
Shop Albuquerque NM, Gallup NM, Visit Petrified Forest, Travel to Grand Canyon NP.
Mary got up early and visited the jewelry store while the girls and I slept in. The store was very nice and she purchased some supplies for her bead business. We ate a continental breakfast and left Albuquerque about 11am. We stopped at a historic old bridge Route 66 bridge and took a couple pictures. On the way back to the car we saw some neat looking lizards.

East of Gallup we stopped a scenic turnout. In the distance was the Saint Joseph Mission Church. Immediately outside the fence was a booth where Native American Indians where selling jewelry. The girls made the following purchases:
Kelly: a necklace and bracelet for $6
Katie: an Indian angel for $12
Kerry: a bracelet for $2
Katie really wanted the Indian Angel, which was priced at $20. Mary reminded here that vacation was just starting and that would take most of her money. The Indian women asked if the girls were spending their own money. When Mary replied yes, then she lowered her prices and Katie got the angel for $12, which is what the Indian women said she paid for it. Very nice gesture.

A gentlemen asked if we were from Saint Louis. I told him we were and he said that he recognized the car dealer name on our van. He had been in Saint Louis to visit his daughter and was now headed to California for a wedding.

We motored on to Gallup to Thunderbird Supply Company located at 1907 West Hwy 66. Mary had heard about them from her aunt and uncle. The drive from Albuquerque to Gallup is very scenic. We lunched at Taco Bell then headed for Arizona.

About 25 miles past the border is the northern entrance to Petrified Forest National Park. We took the scenic 22 mile loop through the park and visited the Painted Desert. We were stopped by a Park Ranger for a few minutes while a film crew finished shooting a car commercial - it looked like it may have been a Navigator commercial. About halfway through the park my trusty Tokina zoom lens froze-up. It refused to zoom in or out which made composing pictures a bit more difficult. They day before you go to the Grand Canyon is a bad time to have an photography equipment failure! We stayed at the park longer then we expected 2-3 hours. The short hike behind the Visitors Center is really neat and you get to see lots of petrified wood close up. Before leaving we visited the gift shop and bought some post cards and small pieces of petrified wood.

We drove on to Flagstaff and found the Flagstaff Mall which had the only camera store in town (Kits Camera). The mall is located off exit 201, then right at the traffic light, remain in the right lane and follow the US Highway 89 North sign - the Mall will be located on your right. The man who worked there was very helpful but he was unable to fix the lens. He offered to send it to Phoenix for repair but that would take many days. I was resigned to purchasing a new lens but the only zoom lens he had for Nikon manual focus was an 80-200 which I already had. He did have a 35-70 Nikor lens but it came in a kit with a Nikon FM10 camera. Because I was so anxious to take pictures of the Grand Canyon (after driving 1,700 miles to get there) I opted to buy the FM10, remove the lens and put it on my trusty old Nikon FM camera. This was a rather expensive solution to my problem but the alternative was to go without a wide angle zoom lens or to drive to Phoenix (2-3 hours one way).

While at the camera shop, Kelly and Katie decided they needed new disposable cameras. After much discussion we decided on a Fuji model for them. Then little Kerry decided she wanted in on the action. "I want a camera too" she repeated several times. What the hey, we bought her the cheapest one we could find and thus began her exposure (pun intended) to cameras and film.

For dinner we dined at the Chick-fil-A in the mall. I put the new lens on the old camera, set the timer and took an existing light picture of us eating dinner. After dinner we piled back into the van and drove up scenic Highway 180 about 77 miles to Tusayan in the dark. Lots of signs warning of deer and elk along that road but we only saw one deer. Along the way a small object flew in front of the van and hit the top of the windshield - we think it was a bat. We arrived about 9:15pm.

We lodged at the Grand Canyon Hotel in Tusayan AZ, about 2 miles south of the of the Grand Canyon National Park entrance. Lots of people stay in Williams or Flagstaff but I wanted to be closer to the action.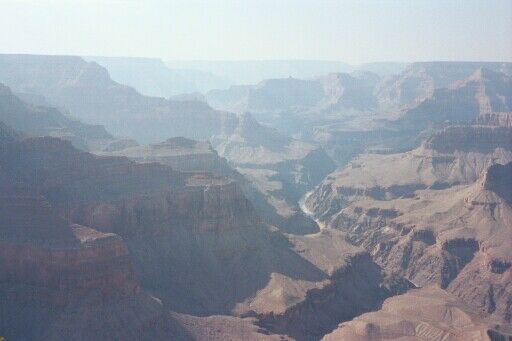 Day 6 - Tuesday 08/13/2002
Visit Grand Canyon NP day 1.

We ate breakfast at the hotel as our room came with a continental breakfast. Afterward we drove a couple miles north to the entrance to the Grand Canyon where we paid the $20 admission fee. We continued north for a few more miles and came upon Mathers Point. We jumped out of the van, ran over to the edge and starting taking pictures. Katie went a little nuts and used up half her disposable camera in a matter of minutes before being coached by her parents to pace herself. We drove around the Grand Canyon Village and found a place to park - several lots are available.
Hiking the Bright Angel Trail: We wandered over to the Bright Angel Lodge and looked for the Bright Angel Trailhead. We followed the paved path behind the lodge westward past the Lookout Studio and Kolb Studio. The trailhead is not we marked when the trail is approached from this direction. The trail passes right next to the Kolb Studio. A short way down the trail we encountered a Park Ranger who quizzed us on what we were doing (basically: how many of us were going how far with what quantity of water). We had sufficient water for Kelly, Katie and I to make it the 1.5 mile resthouse. The Ranger suggested that Mary and Kerry walk about 5 minutes down the trail to the first tunnel. Kerry soon tired of the dusty trail that was covered in mule poop. Kerry said: "I don't like this poopie trail".
Kelly, Katie and I continued down the trail, stopping to rest, take pictures and speculate about how far we had gone. We passed a section of the trail that was being rebuilt by hand by 3 or 4 young men. Talk about tough work. The girls starting getting restless about a mile down the trail. We wondered how much further it would be to the resthouse. Kelly was sure we had missed it. About this time I spied the green metal roof of a resthouse but it was a long way off in the distance. I asked a couple out-bound people how much further to the resthouse. The answers were very inconsistent but the last woman I asked assured us that it was just around the corner which turned out to be true. Luckily the resthouse I had seen earlier was the 3 mile resthouse! We used the bathroom, refilled our water bottles and took some pictures. It took us about 1 hour and 15 minutes to travel 1.5 miles to the first resthouse. Many people were resting there. The Bright Angel trail is listed as steep and it has a 1,131 foot drop in the first 1.5 miles.
We started back up and were stopped by another Ranger who insisted that I soak the girls shirts to keep them cool. Kelly was ok with it but Katie took great offense - she didn't like her shirt being wet even though it was quite warm by then. Unhappy Katie set a fast past coming back up and I had to keep reminding her to slow down! Coming up is obviously slower and warmer so we would rest in the shady spots along the trail. The girls wondered if we would ever get out. I suggested that they look for the familiar landmarks we had seen on the way down: the 2 tunnels, the area of the trail being rebuilt and the place we stopped to take a picture. Once we passed the first couple landmarks they had more bounce in their steps and started smiling more. It took us about 1 hour 40 minutes to hike out.
We found Mary and Kerry behind the Bright Angel Lodge and we dined on ice cream and hot dogs for lunch. A California Condor flew by and created quite a stir - everyone was trying to get a picture of it. After lunch we took the free shuttle bus on the Hermits Rest Route (closed to private vehicles), stopping at several of the canyon overlooks. Each overlook presents a different view of the canyon. I got off the shuttle at Pima Point and hiked the South Rim Trail to Hermits Rest, about 1.1 miles. I stopped along the rim trail and took some more pictures and made it to Hermit's Point in about 22 minutes.
We regrouped at Hermits Point and rode the shuttle back to the Village, made our way back to the van and headed back to Tusayan. We carried out dinner from Wendy's and ate in our hotel room. Everyone was tired but we did manage to get a swim in before bed.
Day 7 - Wednesday 08/14/2002
Visit Grand Canyon NP day 2.

Hiking the South Kaibab Trail: We were up early this day so Mary and the girls could drop me off at the South Kaibab trail head. I tried to talk Kelly and/or Katie into going with me but they had had enough with Bright Angel hike the day before. At 7am a Ranger was leading a 1.5 mile hike down to Cedar Ridge. This hike is advertised as the most popular day hike in the park. You're not allowed to drive from Highway 64 to Yaki Point where the trial starts so the girls dropped me off and I hiked about .25 mile to the trailhead where a small crowd had gathered. I decided the group of 30 was going to move slower than I wanted so I started down the trail ahead of them. It was a nice cool morning. I enjoyed this hike more than the Bright Angel trail. About half way down to Cedar Ridge is a scenic spot called Ooh Aah Point. This trail is advertised as having little shade which really isn't true. I was in the shade about 80% of the time. I'm sure time of day was a factor. I really enjoyed the hike and made it down in about 55 minutes.
At Cedar Ridge is a bathroom and hitching post for the mules. There is no running water so you have to carry enough water to get down and back up. You can hike out on Cedar Ridge which juts out into the canyon. You get a very nice view of O'Neil Butte. I hiked out to the point and took some pictures. I took a couple pictures for a family that had hiked down together. I rested for a while, had some snacks and water then headed back up.
On the way up I meat the group of 30 coming down. I also met a Ranger and spoke to her for a couple minutes. I was feeling pretty good and was moving at decent pace on the way up. A young women came up behind me and soon passed me as she ran up the trail. A short time later I came upon her trying to catch her breath. I commented that she was getting quite a workout and offered her some water. She declined the water and resumed her run to the top. I didn't see her again until I had I got back to the top where she was waiting for her family. I made the hike out in about 50 minutes which was a little faster than my decent. I attribute that to the fact that I took a lot more pictures and video on the way down.
I took the bus to Yaki Point took some pictures, then rode the bus to Mathers Point where I was to meet the girls. Along the way the bus driver commented how dry it was and that normally they would be getting lots of rain. I went to the bathroom at Mathers Point then took a few more pictures of the canyon. I discovered one scenic overlook where you can see both the Colorado River and the Phantom Ranch. Mary and I got our signals crossed and I ended up waiting over an hour for them to arrive. I showed them the scenic lookout that has views of Phantom Ranch and the Colorado River and the far east view that has a nice view of the South Kaibab Trail. It was here that we saw an oriental man taking a long time to adjust his camera on a tripod way out on a ledge. Then he would run in front the camera, strike a humorous pose and have his picture taken - clever.
We piled back in the van and drove the Desert View Drive (Highway 64) east toward east entrance of the park. We visited Grandview Point, Moran Point and Lipan Point and Desert View. We had lunch at cafeteria at Desert View and visited the Watchtower. Next we drove back to the south entrance and took the girls picture on the Grand Canyon entrance sign - this is a very popular thing to do. We drove back to Tusayan and went to the IMAX Theatre to see the film about the Grand Canyon - very good. For dinner we ate at a local pizza restaurant.
Day 8 - Thursday 08/15/2002
Travel day from Grand Canyon AZ to Moab UT, visit Four Corners, Hole in the Rock.
We left Tusayan about 8am and drove back through the Grand Canyon and out the east exit and on to Tuba where we stopped for a bathroom break and snacks. About 45 minutes into this drive Kelly remembered that she hat forgotten her disposal camera on the table in the restaurant at the hotel. We decided to push on and Mary called the hotel about the camera. We continued across the large Navajo Nation Indian Reservation to a little town called Teec Nos Pos Arizona, population 300, where we used the bathroom and had lunch of hot dogs and Indian fry bread. We drove another 4 miles to Four Corners and paid $2 each to enter. Four Corners is the only point in the United States common to Four State corners. I remember being there as a kid about 30 years ago. We took turns taking pictures of each other, then walked around the stalls at the perimeter and looked at the goods the Indians were selling.
We saw lots of recreational vehicles from Cruise America with 1-800-RV4-RENT painted on them. We might have to try that sometime.
We piled back into the van and drove west on 262 then north on 191 toward Moab Utah. We stopped along the way and took pictures of Church Rock, Wilson Arch, Looking Glass Rock and Hole'n the Rock. Hole'n the Rock is a historic 14 room, 5000 sq ft home built into the side of rock. Very unusual and worth a tour. Along the way we stopped for ice cream in Monticello.
We lodged at the Best Western Hotel (the newer one on the west side of the highway) - very nice place. We visited the tourist information spot across the street and picked up some information about Arches National Park. We ate our evening meal at Eddie McStiff's Restaurant and Micro Brewery next door to the tourist info spot. It's popular spot with good food.
Day 9 - Friday 08/16/2002
Visit Arches NP, Travel to Vail CO.

We chose to stay in Moab because of its close proximity to Arches National Park and I-70. We had no idea what a hip and happening place it was (is). There is a lot going in the Moab area as it is a jumping off point for Arches National Park, Canyonlands National Park, hiking, biking, rafting etc. Lots of outdoor activities. We had breakfast, finished packing, loaded the van and left for Arches NP about 8:10am.
Once in the park we drove to the trailhead of the Delicate Arch Trail. The 3 mile round trip hike sounded like fun but we were unsure of its difficulty. Turned out to be a great hike - my favorite of the trip. The first half mile is on a trail that winds around and over some small hills to the base of the slick rock. The next mile or so was primarily on the slick rock following the karins.
We left Moab via state highway 128 which follows the Colorado River for about 15 miles, very scenic drive. We saw many people rafting in the river which looked relatively calm in this stretch. We turned onto I-70 and headed east bound. We hoped to reach at least Grand Junction Colorado and preferably Glenwood Springs. Mary asked the girls if they wanted to stop or keep driving if she continued to read to them. It was unanimous to keep driving and reading.
We continued on to Vail. Along this portion of I70 we noticed a bike trail the paralleled the I70 and the river and later learned it was the Glenwood Canyon Recreational Trail, it the runs for about 16 miles.
In Vail we stopped at a gas station for a bathroom break and Mary asked for a recommendation about where to stay. The employee wrote a price of $49 on the back of business card and suggested we stay at the West Vail Lodge on North Frontage Road, which we did. They opened the outdoor pool at our request and we swam in the pool and enjoyed the hot tub. We had dinner at the nearby Half Moon Saloon. The Saint Louis RAMs were on TV playing an exhibition game.
Day 10 - Saturday 08/17/2002
Travel day from Vail CO to WaKeeney KS, visit Dillon CO and Mt Evans.
When we checked out of the hotel the desk clerk gave us a hard time about the special quoted rate of $49 as the normal rate was $79. Reluctantly they agreed to honor the rate. The motel had a very nice lobby and we enjoyed the pool and hot tub. But the room had seen its better days: plaster damage, leaking faucets etc. This seemed somewhat surprising since the lodge had been renovated in 1996.
We left Vail about 8:30am and headed east on I70. We stopped in Dillon at the Silverthorne Factory Stores outlet mall and visited Eddie Bauer and The Gap. Back on the I70 east through the Eisenhower Tunnel, which is the highest vehicular tunnel in the world, located at an elevation of 11,013 feet, then on to Idaho Springs. We traveled south on 103 about 15 miles to the entrance of Mt Evans. A $10 fee is charged to drive up the mountain. From the entrance to the summit is another 15 miles. We were surprised and impressed at the number of bicyclist riding up (and down) the mountain. The road is very curvy with lots of switchbacks, no shoulders, no guard rails and steep drop offs - which makes it all the more fun!
Once at the top we found a place to park (it was a busy day at the summit) and put on all the warm clothes we could find. It was cold and very windy at the top. From the parking lot at top it is a quarter mile hike to very top where you can see the geological marker. The top offers a panoramic view of the surrounding mountains and lots of wind! It was partially overcast so we couldn't see all that much. They say on a clear day you can see Denver about 35 miles to the east. We were all freezing at the top so we took a couple pictures and headed back down. Kerry was crying because she was so cold so I carried her and the way back down to the car.
Why Mount Evans? Because I had noticed it on the road atlas marked as the "Highest Road in U.S.". That made me curious and then I read that it was higher than Pikes Peak and a lot less commercialized (no gift shops here). If you are interested in visiting this mountain then checkout Tim's Picture Guide to Mt. Evans - a very comprehensive guide to the area. Colorado has 54 mountains that are over 14,000 feet - anyone who has been to Denver has seen Mt. Evans directly west of the city.
We had hoped to have dinner with my brother and his family but we were running a few hours behind after stopping at the outlet mall and Mt Evans. We stopped in Burlington CO and had dinner at Burger King. We finally arrived at my brother's place in WaKeeney about 8:45pm. The kids were excited to see each other and played together until about midnight.
Day 11 - Sunday 08/18/2002
Visit WaKeeney KS.
Sunday was a play day in WaKeeney. The kids all played together outside on Emma and Ben's new playground and new water toys. Dave barbecued hamburgers and bratwurst and we had a nice picnic outside.
In the afternoon Dave took Rob to Cedar Bluff Reservoir to sail. We had a nice time out on the water and even had a little visit from the Kansas Water Patrol. Dave is the proud owner of a 23' Kittiwake sailboat that is featured at this website: Dave's Boat .
That evening we dined at the Western Kansas Saloon in WaKeeney, which was originally a hardware store when it opened in 1925.
Day 12 - Monday 08/19/2002
Travel day from WaKeeney KS to Webster Groves MO.
We hit the road early, leaving WaKeeney at 7:05am. Everyone was tired and slept a lot. We stopped in Blue Springs to get gas and have lunch at Burger King (again). We arrived home about 4pm, after traveling 3,535 miles in 12 days.
If we had more time:

more time in Moab
visit Canyonlands
visit Senona AZ
visit Dead Horse Point State Park
Happy Trails.
---
back to: Top of this Page | Travel Log Index | Home


Contact the
Copyright © 2002-2003 Robert P. Anderson