---
ANDERSON SKI TRIP 2000
Family Ski Trip to Monarch Resort in Colorado
---
| | |
| --- | --- |
| Title: | Anderson Family Ski Trip 2000 |
| Point of Departure: | Saint Louis Missouri |
| Destination: | Maysville Colorado |
| Purpose: | Family Vacation to go Snow Skiing |
| States: | Missouri, Kansas, Colorado |
| Duration: | 10 days |
| Distance: | 2,076 statute miles (round trip) |
Day 1 - Friday 03/17/2000
We left Webster Groves, Missouri about 12:45pm after Kelly got out of 1st grade. Incidently, Webster Groves is a suburb of Saint Louis. You trivia buffs might be interested to know that Saint Louis is the only City in the US that does not exist in a county. We traveled West on Highway 40 to Wentzville where we picked up Interstate 70, part of the Eisenhower Interstate system. Traveling west through Columbia, Kansas City, Topeka, Salina, Hays then on to WaKeeney, Kansas, the "Christmas City of the High Plains". We drove about 540 miles in just under 9 hours including 3 stops. At WaKeeney we met up with my parents (Don & Margaret) at the new Super8 Motel. They drove up from Winfield, Kansas earlier in the day in their second best Honda Accord.
A couple days before we embarced on this journey our car, a '94 Nissan Altima, started idling rough. The problem seemed to be ignition related and the engine smoothed out at higher RPMs. On the way to western Kansas we noted that accelaration was diminished, as was the gas mileage. More on this topic later.
Why is the "K" in WaKeeney capitalized? Apparently because the town got its name from its 2 developers Mr. Warren and Mr. Keeney.
Day 2 - Saturday 03/18/2000
Non-travel day spent on the fruited plains of Western Kansas visiting my brother X, his wife Y and their new baby Z , age 5 days. It was so very considerate of Y to have the baby right before our arrival. This afforded us the opportunity to see the baby (and her parents of course) on the way to and from Colorado. Z was born on early Monday evening at an area hospital.
While in WaKeeney we visited Sam C., a retired Chrysler mechanic who was kind enough to look at our Altima's rough idle problem. He verified that the ignition system was indeed working correctly and suggested that "it's either the fuel injector or it's a valve - either way its going to be expensive". After several phone calls and much discussion we decided to attempt to get the car repaired in Colorado Springs, Colorado. We made many, many phone calls on this trip and we used our VoiceNet calling card to bill them.
For lunch we all met at Cleland's Drug Store which has an old fashioned soda fountain counter. Proprieter James Cleland organizes some Highland Games called Th Gatherin, Ancient Festival O' Beltane each year in WaKeeney. Don & Margaret took Kelly and Katie to Hays to visit the infamous Sternburg Museum of National History. Home of animated life-sized dinosaurs, giant sea swimming lizards and fish, the famous fish-within-a-fish fossil. The fossil alone is worth the trip.
Day 3 - Sunday 03/19/2000
We left WaKeeney and continued our trip West on I-70 to Colorado. The speed limit is 75 mph on I-70 in eastern Colorado so you can make considerably good time. One must stay alert to the tumbleweeds that occasionaly venture into your path without much warning. We continued West until Limon Colorado where we turned South on Highway 24 toward Colorado Springs. For some reason this highway has a pinkish cast to it - never did find out why. Travel slows a bit on this stretch of highway as it is 2 lanes with rolling hills and some pokey traffic. Limon gets the award for most expensive gas, clocking in at $1.659 a gallon. You would think it would be more expensive up in the mountains.
There is something really special about traveling through Colorado for hours then all of a sudden you look up and see those majestic Rocky Mountains. Some how it make all those long hours in the car seem worthwhile.
We continued on to the Colorado Springs Airport where we picked up an Avis rental car, then made our way to Phil Long Nissan located on Motor City Drive. It seemed to us that Phil Long has one of every car dealership but a local taxi driver assured us that he did not have a Chevrolet dealership - go figure. We moved all our stuff from the Altima into our rented 4 door Pontiac Sunfire and continued West on Highway 24 past the entrance for Pikes Peak. I keep saying I'm going to stop and take the drive to the top of Pikes Peak but so far it hasn't happened. Did you know that Pikes Peak was named after a man that never made it the top? Today a car makes the trip in about an hour. On west through Woodland Park, Wilkerson Pass - elevation 9,507, Hartsel, Trout Creek Pass - elevation 9,346, to Highway 285 at Johnson Village. Just east of Johnson Village (near Buena Vista) is a scenic overlook where you can admire the great view of the mountains, here's a sample of the view: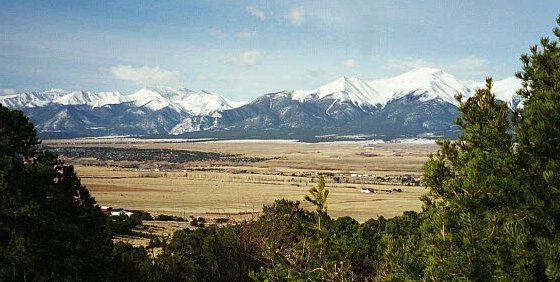 We headed south on 285 to Salida where we picked up Highway 50 West to Maysville then on to the Creekside Cabin that we rented for the week. This is "Fourteener" Country - the awe inspiring display of 14,000 foot mountains. Maysville was a bustling mining camp in the late 1800's with a population of about 1,000. To read more about it click here.
Well we finally made it after 970 miles and approximately 15 hours of Tom Chapin and John McCutcheon tapes. The kids really love listening to these two. We have been fortunate to hear them both several times at the Walnut Valley Festival held each September in Winfield, KS. The girls do very well traveling in the car all things considered. Kerry's car seat takes up lots of room in the back seat so Kelly and Katie are shoulder to shoulder. Often they fall asleep leaning on each other. They manage pretty well playing with toys, coloring, looking at books, looking out the window and singing songs. They also enjoy having their mom read to them - selections from The Secret Garden and the Kirsten and Samantha American Girl books.
Day 4 - Monday 03/20/2000
Don and Mary took the two older girls to Monarch Ski Area (1-888-996-7669) for their first day of ski lessons. The girls each got one hour of private instruction arranged through the Monarch Children's Center. We enjoy Monarch because it is a smaller mountain, further from Denver and not so crowded as those in Summit County, especially during Spring Break.
Rob and Margaret headed back to Colorado Springs taking an alternate path (Highway 50 East) along the Arkansas (pronounced ar kan'zes) River. This route takes you by the entrance to the Royal Gorge (no, I'm not talking about the all you can eat breakfast buffet at Denny's). This is another spot that I keep saying I will visit the next time I'm out here. We traveled past Canon City to Highway 115 North to the Colorado Springs Airport where we dropped off the rental car, taxied over the Nissan dealer and picked up the repaired Altima. The Nissan Dealer was kind enough to lighten my wallet by $405 and now we had a new, functioning fuel injector in cylinder #3 which made a substantial improvement in performance and fuel economy. Click here to see what the offending fuel injector looks like. We were grateful to the Nissan Dealer for working us in on such short notice. By my calculations we traveled 850 miles with combustion in only 3 cylinders.
After a quick lunch at Sonic Drive-In (love those old fashioned #2 hamburgers) we headed back to Maysville. While it had only taken 2 hours to get to Colorado Springs, the return trip to Maysville was a different story. Big storm was moving in and promised to deliver 14+ inches of snow. Our travel back to Maysville via Highway 24 was slowed considerably by heavy snow, poor visibility, ice and some accidents (we didn't participate). Somewhere in here, we met a CDOT truck with its snow plow blade down, but unfortuantely there was no snow on that portion of the highway. Consequently the blade threw rocks all over our car and cracked the windshield in three places. It was a journey that we will not soon forget.
Day 5 - Tuesday 03/21/2000
Don, Rob, Kelly and Katie headed up back the mountain to Monarch where the girls enjoyed another round of lessons and Don and I hit (literally) the slopes to see if I remembered how to ski. On our second run of the day I got some "air" under my skis. Unfortunately this was quite unintential as the Blue slope got the best of me. My ski pole was left with a graceful bend and my left hip developed the most colorful 4" bruise you have ever seen. Hence the term "Colorful Colorado". Not wanting the mountain to get the best of me, I promptly wiped out again (what did those signs say about skiing out of control?). The girls wisely didn't follow their father's example and continued to improve their skiing. Katie skied with Grandpa, Kelly skied with me. Kelly insisted on going to the top of the mountain since she had already been there with her teacher. We skied down 3 or 4 times together and after my previous experiences of wiping out (que the Ventures song here) I quite enjoyed the pace.
Score at the end of the day: Mountain 2, Rob 0 (sigh).
During the evening the girls watched Mary Poppins and played a game called Pass the Pigs.
Day 6 - Wednesday 03/22/2000
Rest day, no skiing. Margaret Mary, I mean Mary Margaret, I mean Mary & Margaret went shopping in Salida while Don and I looked after the K girls, Kelly, Katie & Kerry. In the afternoon we took the Kelly and Katie swimming at the Salida Hot Springs Pool. The water comes into the pool at 108 degrees and pools are 90 - 95 degrees, rather nice on a cold winter day. That evening we dined at Il Vicino, very good pizza and micro-brewed beer but rather slow service. Traveling back toward Poncha Springs several deer ran across the highway. Don alertly avoided them and we stopped and shot a little video of them - we counted 11.
Day 7 - Thursday 03/23/2000
Don, Rob, Kelly and Katie attacked the mountain yet another day. No lessons just the little kids skiing with the big kids. Don and Kelly skied the greens and Katie and I stayed on the bunny slope. After lunch we took pictures near the lodge and the girls did two more runs down the bunny slope to show off for their Mom & Grandma. The five girls headed back to the cabin and Don and I made a few more runs down the green and blue slopes.
Day 8 - Friday 03/24/2000
Don and Rob returned to Monarch only to find my skies and boots were gone - apparently they thought I had left for good. So after getting re-outfitted we headed back up and down the mountain. Greens and Blues with a late morning break. We left mid-afternoon and drove up to Monarch Pass, elevation 11,312 feet, which is another couple miles west on Highway 50. We had lunch at the Subway on the summit. Nice gift shop - try the chocolate and peanut butter fudge.
Friday evening, Mary and I drove up Poncha Pass, elevation 9010 feet, and saw some deer on the way up. We shot some video then returned to Poncha Springs to the historic Jackson Hotel Restaurant (719/539-4861) for a nice steak dinner complete with California Merlot. The girls hungout with Grandma & Grandpa, ate leftovers and watched "Babe: Pig in the City".
Day 9 - Saturday 03/25/2000
We got an early start (7:30ish) and headed back toward Colorado Springs. We stopped at the scenic overlook just east of Johnson Village (near Buena Vista) to admire the great view of the mountains and take some photos. We motored down Highway 24 east to Woodland Park where stopped at the Golden Arches for breakfast. Even the McDonald's parking lot has a great view of the mountains. Then through Colorado Springs and headed toward Limon. Along the way we saw more deer, more tumbleweeds and a one legged bicycle rider. We continued on to WaKeeney and lodged at the Super8 Motel once again, only this time the motel wasn't very crowded.
Saturday evening we ate at Pizza Hut before traveling to X, Y & Z's place for a little more visiting, baby holding and a couple rounds of Single Malt Scotch (the world's most noble spirit) at the nice oak bar my brother built in his basement. Now if he would only remove that ugly Dallas Cowboys banner on the wall and replace it with something in RAMs blue and gold.
Day 10 - Sunday 03/26/2000
Sunday morning it was back on the road, travelling eastbound I-70 toward Kansas City. We encountered detours around the north side of KC that were not well marked; glad it was the weekend. We drove non-stop from WaKeeney to the Odessa (MO) Outlet Mall; about 320 miles. After a quick lunch at Wendy's, we did our usual routine of visiting The Gap, Edward Bauer and Osh Kosh. We often find good deals here but our purchases were somewhat limited by the fact we had little spare room in the car with all our luggage. Then back on the road again. We made it home in about 3 hours, 15 minutes after encountering some rather strong rain storms about an hour outside of Saint Louis.
Home Sweet Home - we arrived about 6:20pm. It is always nice to get home after a long trip, catch up on the mail and newspapers and to sleep in one's own bed.
Miscellaneous
Favorite bumper sticker: "If God meant for Texans to Ski, He'd of given them mountains".
Happy Trails.
---
back to the Top of this page
return to the Main Page or to the Travel Log Index


Contact the
Copyright © 2000-2003 Robert P. Anderson