---
GITAP TOUR 2003
the Inaugural Grand Illinois Trail And Parks Tour
---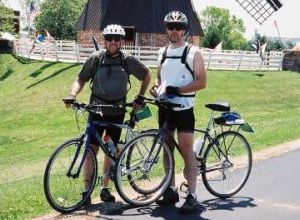 Rob Anderson and Joe Dietrick on the Mississippi River Trail near the windmill.
On a good day you can see people tilting here.

Have a grand biking tour, traveling along portions of one of America's best and longest trail systems, the Grand Illinois Trail. Discover northern Illinois - its towns, its terrain, its people and its parks. Enjoy an unhurried week-long trek, using many of the completed GIT trail segments (or close-by road alternatives). A special aspect of the ride is the use of Illinois State Parks (for the most part) for overnight camping stays. A joint undertaking by the League of Illinois Bicyclists and the Illinois Department of Natural Resources, GITAP promises in this, its inaugural tour, biking, culture, nature, fitness, outdoor living, good food, and great vistas. In short - a grand tour on a grand trail.
The Route - GITAP makes a clockwise circle of about 445 miles starting in the western Chicago suburb of Oswego. From there it heads west, using the I & M and Hennepin Canal State Trails to the Quad Cities, where it turns north and follows the Great River Trail along the Mississippi River. Then heading northeast, it follows country roads to Rockford. Further east it uses the Long Prairie Trail before turning south at Richmond and heading back to the start, using the Prairie Trail and the Fox River Trail. The terrain utilized is, for the most part, relatively flat with some rolling hills.
Accommodations - Riders will tent camp in five state parks and one high school along the route, although nearby motels are available. Showers and luggage transportation will be provided.
Food - Breakfasts and dinners are included in the tour fee. Cue sheets will identify possible food and drink locations along the route. Short, informational meetings will follow the dinners and other entertainment will be available at some sites.
Dates and Sites - The ride begins on Sunday, June 15, 2003 at Oswego's Fox Chase Elementary School. Sunday, 6/15 - 65 miles to Starved Rock State Park Monday, 6/16 - 80 miles to Geneseo High School Tuesday, 6/17 - 70 miles to Morrison-Rockwood State Park Wednesday, 6/18 - 60 miles to White Pines State Park Thursday, 6/19 - 55 miles to Rock Cut State Park Friday, 6/20 - 50 miles to Chain O' Lakes State Park Saturday, 6/21 - 65 miles to Oswego Shorter routes will be available on some segments - along with on-road alternatives close to paths and trails.
Fees - $265 before May 1, 2003; $315 after. Fees include camping sites, all breakfasts and dinners, t-shirt, cue sheets, marked route, luggage transportation, sag vehicles, parking for the week, bike repair available, evening meetings and programs. Pick up packets on Sunday morning (6 to noon) at Oswego's Fox Chase Elementary School.
---
Travel To GITAP - Saturday 06/14/2003
Joe drove from his home near Kansas City to Saint Louis on Saturday morning arriving a little after noon. We had lunch, then loaded up my bike and gear, took a couple pictures with the Anderson girls and headed off toward Chicago. The trip to the Aurora/Naperville area was uneventful.
We found our motel Super 8 in Naperville off of Highway 59 and checked in. This area is full of new subdivisions and strip malls. Next we visited the nearby Performance Bicycle store. We browsed around the store and decided to split a container of Endurox® R4® Performance/Recovery Drink - hey it was on-sale!
We had dinner at the English Pub, then visited the nearby Sportmart for a couple last minute items. Then on to Walgreens for a new camera battery (Rob) and to Walmart for cheap sweatshirt (Joe).
---
Day 1 - Sunday 06/15/2003
Oswego to Starved Rock IL.
Advertised Distance: 66.9 miles, Our Distance: 70.06 miles
Travel Log: Flats and Father's Day Fun
We stopped on the way to buy ice and water for our hydration packs, then on the Fox Chase School where we registered. Here we met Laura Kuhlman and Chuck Oestreich, two of the main instigators of this new tour. While loading our luggage we noticed Jean and Judy whom we had met on the TOGIR Tour two years earlier. Small world.
We strapped on our hydration packs and hit the road. Leaving the school parking lot I experienced a sensation of ice cold water running down my back and butt. Yes, that will get your attention early in the morning. I was convinced the bladder of my hydration pack had sprung a leak but Joe figured out that I had a bunch ice in the bottom of my pack. The whole bottom of the pack was saturated and when I put it on my back and tightened the waist strap it was like squeezing a sponge. Ice cold water everywhere.
We rode about and mile and a half and missed a turn. The street was unmarked and we failed to follow the cue sheet mileages or the road markings. We soon found our way back and noticed the white arrows painted on the road. Boy were we surprised when the arrows turned into a subdivision! Then we noticed the painted dots (Chuck called them GITDots). Hey lets follow those markings! Of course it might have been easier to actually read the instructions provided by the organizers but would lessen the sense of an adventure.
We visited the sag stop and met Lewis who works for the IDNR. We refueled and managed to miss the next turn, soon we doubled back and found the turn that everyone else noticed. We rode about 25 miles of road before finding the Illinois & Michigan (I & M) Canal Trail. This canal provided the first complete water route from the east coast to the Gulf of Mexico by connecting Lake Michigan to the Mississippi River by way of the Illinois River. The canal was completed in 1848, at a cost of $6.5 million. It begins at the south branch of the Chicago River at Bridgeport and extends 96 miles to the Illinois River at LaSalle. It was originally 60 feet wide and 6 feet deep. Along the canal, 15 locks were built to accommodate differences in elevation. Commercial traffic began immediately, with barges pulled by mules or horses walking on the towpaths. For more information on I & M Canal see: IDNR I & M Canal webpage.

On the I & M Canal we passed under a wood laminate bridge - never seen anything like it. We assumed that there must be an interesting story behind that bridge - after the tour I was able to locate some interesting information. Click here to read more about the Five Mile Bridge.
At various points along this trail we encountered "Slow, Curve Ahead" signs. Being cyclists traveling long at 14 mph, we found this to be humorous. I think you would have to be traveling about 40+ mph before the sign really means much. Generally Joe and I don't travel that fast unless it's down a very steep hill with the wind at our backs.
At about the 60 mile mark Joe had a flat tire and he insisted on stopping to fix it - wimp. He got it all fixed and back on the bike only to discover the valve stem had cracked so he had to redo the whole thing. Of course it was the back tire. Lots of people slowed to offer their assistance or advice. Jerry from Evansville stopped for a chat and later rode with us a while. Jerry told us about the nice tours conducted by the League of Michigan Bicyclists.
We had lunch at the Seneca Family Restaurant. In the afternoon we stopped at the Country Cupboard to have ice cream. Lot's of bikers and locals had the same idea. Then it was across the bridge into Hungry Rock, I mean Starved Rock State Park. The Starved Rock Lodge was at the top of a "very healthy hill". Nothing like a big climb at the end of the day's ride. This hill turned out to be the GITAP version of L'Alpe d'Huez.
The lodge at Starved Rock is very nice - reminds me of the one at Pere Marquette State Park, north of Grafton IL. Joe and I did the hike out to Starved Rock. On the return I heard a boy say that he had counted the steps and there were 272. This hike offered a nice view of the dam and Starved Rock. According to Indian legend, Starved Rock State Park derived its name from a 1760's incident in which a band of Illiniwek took refuge on top of a towering 125-foot sandstone butte and were surrounded by Ottawa and Potawatomi tribes. After being trapped for many days, the Illiniwek died of starvation, and the site became known as Starved Rock.
The evening meal was pork and sweet and sour chicken in the lodge dining room - very nice. A wedding was happening next door. After the tour meeting we sat outside and had a couple pitchers of beer produced by the world's largest macro brewery. Carbo loading is an important part of our evening regime. We met and talked with Ed Barsotti, Executive Director of LIB, another GITAP instigator. Later in the evening we listened to an interesting discussion of Illinois politics. At some point we called our Fathers to wish them a happy Father's Day.
Click here for Day 1 Photos.
---
Day 2 - Monday 06/16/2003
Starved Rock to Geneseo IL.
Advertised Distance: 76.1 miles, Our Distance: 81.69 miles
Travel Log: Heat and Hennepin Hijinks
Probably the toughest day of the tour, certainly the longest mileage wise and time in the saddle wise. It was a warmer day (high of 88 or 89) and there was considerably less shade than Sunday. And then there was the trail surface. The surface had been chip sealed and had lots of loose aggregate on it which made the riding more difficult. There was an option to jump off the trail and take roads to Geneseo but we opted to tough it out on the trail. Gluttons for punishment. Many people complained of numb hands at the conclusion of this ride. Many people commented on the inconsistent trail surface. The size of the aggregate seemed to increase with each conversation - toward the end we were riding on boulders as big as pineapples!
We started the day with a nice breakfast at the Lodge then took off down the big hill. The hill is steep with a big curve and my rear wheel hopped about six inches outward on the decent. Yikes! A near miss on the road rash. We road the I & M Canal for a few miles, then a few roads complete with big hills, no shoulders, and seemingly fast cars. Then onto the newly opened Hennepin Canal Trail. Along the Hennepin we passed numerous locks and dams, people fishing and saw some wildlife. A deer bounded down trail just ahead of us then disappeared into the brush. A snake lay on the trail in the warm sun - at first we thought it was a stick. Lots of birds and we saw several blue herons. Joe commented that this will be a wonderful trail once the surface packs down a bit and I agree.
We managed to miss the turn to Wyanet, in spite of the sign, and missed a lunch opportunity there. We pushed on to the Hennepin Canal Parkway State Park where we stopped and ate cookies and fruit for lunch. Lots of people were stopping here for a break. We hit the trail for a few more miles before deciding to take a highway into a small town for refreshments. At the quick shop we ran into several other GITAP cyclists who had the same idea. Back on the trail and on to the community of Geneseo Illinois where the local people rolled out the red carpet for us. The people are very friendly in this community and they have a lot of civic pride. Camping and meals were at the Geneseo High School. Food was prepared by the local PTA. During our tour meeting a long list of local dignitaries spoke including the mayor, chamber of commerce president and a state senator who suggested making GITAP larger than RAGBRAI. You should have seen the look on Chuck's face! Many of speakers urged the tour participants to visit the downtown area a few blocks away. So it was with a sense of obligation that Joe and I stopped by Barney's Korner Bar & Grill to do our nightly carbo loading. A local had recommended the place because their beer was cheaper. A few others joined us later and we exchanged stories about our day's adventure.
Editorial Comment: I think that GITAP could grow in size somewhat. From 140 riders to perhaps two or three hundred but beyond that I think you would adversely impact the character of the ride and the overall tour experience. Not to mention logistical problems: restaurant capacity, showers, bathrooms, campsites, motel rooms etc.
It was on this day I started noticing several Waterford bicycles. I had only recently heard about Waterford frames in the RoadBikeRider.com email newsletter (it's a very good weekly newsletter and it's free). Richard Schwinn (yes, that Schwinn) of Waterford Precision Cycles was discussing the durability of modern steel frames: "...With good care, a quality steel frame will long outlive the rider...". He also mentioned a guy named Freddie Hoffman (known as "50,000-Miles-a-Year Freddie") who put 183,000 miles on a Waterford before it suffered his first big crash in over a million miles. A million miles on a bicycle! Unbelievable!
Click here for Day 2 Photos.
---
Day 3 - Tuesday 06/17/2003
Geneseo to Morrison/Rockwood IL.
Advertised Distance: 72.0 miles, Our Distance: 74.10 miles
Travel Log: Rivers and Rollers
We left about 7:40am and rode the Hennepin Trail for about 15 miles, then through Colona and on to the Mississippi River where we used the Great River Trail. This was a nice paved path that meanders along the Mississippi River for about 35 miles. We enjoyed this path - very scenic. Somewhere in here we rode with Bill Lange and Lee Venet. Riding with these two picked up our average speed a bit. Bill organizes the Around Illinois Back Roads (AIBR) tour held in August.
We stopped for lunch in Albany at the Mississippi Cafe. Several other bikers were there also. After lunch we followed the River Trail to Fulton then began our eastward trek toward Morrison. Lots of rolling hills that people refer to as "rollers".
When we arrived at the Morrison-Rockwood State Park there was a sign that stated "last hill". That was comforting to see until we encountered the next hill! Another sign stated "last hill - honest" or something to that effect. We enjoyed the humor after battling the hills. A nice spread of food and drinks awaited us at the campground - this was a nice touch. A wireless phone was available to send email messages - I tried to send a email but apparently it never made it. I started to have a beer but we had to leave in a hurry as our van ride to Thomson was leaving.
Thomson, a town that appears to be adverse to the letter 'p', was a 25 minute ride and I promptly fell asleep. The motel was nice and relatively new. It was built to support the families of inmates visiting them in the new prison, a short distance to the west of the motel. Brand new prison that remains empty do to lack of funds to staff the facility. We showered and wandered over to the office for stamps for our postcards. We noticed big John was using a computer to check the weather forecast: rain possible tomorrow. A discussion ensued about weather websites: John likes AccuWeather as they have hourly forecasts and Joe uses Unisys Weather. I logged on to my Yahoo account sent my family an email updating them on our progress.
We rode back to the state park for dinner. Along the way I exchanged sore butt stories with Barb. She latter determined that her seat was too low owing to a bad seat tube. We had a nice meal of Italian beef sandwiches in the state park. A local bluegrass band played for us - the poor band had the hot sun beating down on them. Ron, who wore a traffic orange jersey and who's bike frame was traffic orange, rode 130 miles on this day. Most of us were happy with our paltry 74 miles. Ron told an interesting story about trying to get a can of Mr Pibb from the vending machine - after a long discussion with the desk guy, he finally admitted that there was no Mr Pibb in the machine!
After returning to the motel a few us gathered together for beer, chips and all the popcorn the motel had. Note the carbo loading, again. Many funny stories were told.
Click here for Day 3 Photos.
---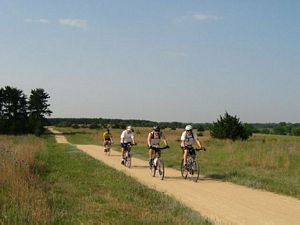 (L to R) Ed Barsotti, Karl Kohlrus, Joe Dietrick and Rob Anderson on the Sand Prairie Trail near Thomson IL.
Photo courtesy of GITAP rider Peter Turula

Day 4 - Wednesday 06/18/2003
Morrison/Rockwood to White Pines IL.
Advertised Distance: 58.3 miles, Our Distance: 60.01 miles
Travel Log: Rain, Raccoons and Dollar Bills
We were up at 5:30am. Can you believe we drug our butts out of bed that early on vacation? We left the motel about 6am, had a nice breakfast at the park and hit the rode about 7:20am. We made a short detour to see the Covered Bridge near Morrison. We rode about 15 miles back over the "rollers" from yesterday to the Mississippi River and Great River Trail. Somewhere in here Karl explained the real meaning of GITAP: Geezers in Illinois Trying in Agony to Pedal.
We rode with Karl K. and Ed B. for a while and took an action shot of Ed, Karl and Joe on the Great River Trail. We rode through a unique sand prairie that featured cactus right beside the trail. The penalty for leaving the trail was a close encounter with the cactus. Then on through Thomson (still no 'p') and a turn to the east.
We stopped in town of Milledgeville. I kept trying to pronounce the town name as Milled-ge-ville. I finally caught on to the correct pronunciation: Mill-edge-ville. Others were struggling with name as well. Joe corrected another rider by saying the name was "MILL-EDGE-VILLE, you know home of the Milledge People". A local got out of his vehicle at that exact moment and said "I heard that". Joe asked him if he knew the song "YMCA". We all got a big laugh out of that. The man's wife asked where we had been and where we were going and quickly said we were all crazy. She got no argument from any of us. Milledgeville has a neat mural painted on the outside wall of one of its buildings.
We pushed on to Polo and ate lunch at the Mason Family Restaurant with Michael from the IDNR. We couldn't get over how inexpensive the food was. After lunch we hooked up with Karl K. from Springfield IL. From Polo to White Pines was on about six miles so we had this ride in the bag, or so we thought. Coming down the last hill toward White Pines we noticed a big racoon, dead, on the side of the road. We were all concentrating on avoiding the racoon and vehicle traffic whizzing by us on the highway, when a strange noise developed on Joe's bike: whap, whap, whap, whap, whap, then psssst. Front tire blow out! A hole had developed in the side wall of Joe's front tire, the tube stuck out, hit the fork a few times then blew.
So we are wondering what to do when Karl says no problem, just put a dollar bill in the tire with a new tube and that will hold for a while. I was skeptical. So Joe folded a dollar bill in half, then in half again and put it over the hole, installed the new tube and we were back in business. Joe and I still cannot figure out why Karl insisted on using a twenty dollar bill. We made it another mile or two to the White Pines State Park where Michael of the IDNR staff was kind enough to call ahead to bicycle repair person and order a pair of new tires for Joe. After lunch Karl said that he didn't want to continue riding at 14 mph as there was no reason to, but we did anyway and ended the day with a 14.6 mph average which was our fastest speed of the tour.
We found our bags and settled into our cabin. Later we went for a walk and the rain came about mid-afternoon. We had a nice evening meal of chicken and beef. At the tour meeting Chuck pointed out that "leaving the river you always climb". Dessert was s'mores made over the campfire outside. The local theatre troupe came out and sang three songs for us. After dessert some of us hung around the campfire and talked and carbo loaded until the bar closed. Michael thought the lodge bar was closed but Joe and I were able to buy a couple more beers, then when he went back to the bar right after us, he couldn't get anything. I guess they knew he hadn't ridden that day. Rich fed the leftover marshmallows to a racoon and we took some pictures of it. We retreated to our cabin when the rain returned about 9:30pm.
Click here for Day 4 Photos.
---
Day 5 - Thursday 06/19/2003
White Pines to Rock Cut IL.
Advertised Distance: 54.3 miles, Our Distance: 54.81 miles
Travel Log: Pigs, Birds of Prey and Rough Pavement
We got started about 7:35am after a nice breakfast of eggs and pancakes. It was cool - we both wore jackets. The riding day started with a triple whammy: legs that were not warmed up, a big hill leaving the park and when you finally crested the hill you were met with pungent odor of pigs. Nothing like the smell of pigs in the morning. Yeah we were all wide awake after that first hill. This day featured lots of rolling hills and wind. Joe and I stopped at the quick shop in Seward (24 miles) for a little food. Several others did the same.
We pushed on to the sag stop at the 34 mile mark. After some cookies we turned left (north) and encountered a bad stretch of road: narrow, cracked pavement and no shoulder. I think this was Meridan (County Road 24). It definitely needs some attention. Luckily we were on this road only for a couple miles.
A couple more miles and we were in the big town of Rockford. I had no idea it was so big (population 150,000). Soon we were on the riverfront path and happened upon the Water Street Cafe where dined for lunch. We sat outside with several other cyclists - it is very pretty down by the river. We talked with bicycle cop T. Coe who was very interested to hear where we were headed and where we had been.
We missed the turn onto the Frontage Road just past the highway and instead road on the highway which was rather busy. We noticed some bikers ahead of us turn onto Crystal Street so we soon discovered our error. We cruised to Harlem High School where Ed B. was standing and directing traffic - he pointed us in the right direction for the Willow Creek Trail that takes you into Rock Cut State Park. We arrived about 1:40pm and had to wait for a ride back to the motel.
We didn't realize that we were suppose to stop by the motel on the way to the park. Dick W. of the IDNR came to our rescue and gave us a lift to the Village Inn Motel where we showered and called our families. I learned that Kelly had won 1st, 2nd and 3rd place ribbons in the swim meet the previous evening. Katie got a 2nd place. Way to go girls! The motel was a funny old place but clean. The motel allegedly had to kick out some long-term tenants to fulfill our reservations, the clerk was behind glass and you had to give her a $10 deposit to use the phone! If you wanted ice they brought some to you from behind the counter.
We returned to the state park to a nice dinner of bratwurst, hot dogs and hamburgers. And German chocolate cake for dessert. Yum! After dinner we walked back to the campground and over to the amphitheater where we were entertained with a Birds of Prey show featuring baard owl and a red tailed hawk.
We returned to the motel and regrouped with our drinking buddies who had skipped the Birds of Prey show and had already tipped a few. Then someone locked the keys in the trunk of their car. By the time that problem was resolved no-one felt like going out since it was rather late. Big John came to the rescue and gave Joe and I each a Heineken beer for a nightcap. Many thanks John. This turned out to be our slowest day by far as we averaged only 12.2 miles per hour - even though we worked very hard!
Click here for Day 5 Photos.
---
Day 6 - Friday 06/20/2003
Rock Cut to Chain O' Lakes IL.
Advertised Distance: 62.3 miles, Our Distance: 62.44 miles
Travel Log: Shopping and Slide Shows
We were up at 5:20am so we could be all packed and ready to catch the 6:00am shuttle to the state park for breakfast. We had nice breakfast of eggs, potatoes, breakfast burritos and homemade muffins. We rode about 9 miles to Caledonia where we hopped on the Long Prairie Path. This was a nice trail although it was a bit overgrown in places. At the end of the trail, in Capron, a nice snack stop had been setup by the Illinois Trails Conservancy. Good food and drink at this stop.
On down the road we passed the Red Oak Farm which featured a large red barn whose windows were placed in the shape of a giant cross. We had lunch in Hebron at the Dari Company which sits at the intersection of Illinois 47 and Illinois 173. It is a surprisingly busy intersection with lots of semi's. We shopped a little in Hebron.
We arrived in Richman about 12:20pm after riding about 50 miles. We had to ride on a busy 2 lane highway north through town to find the Days Inn. After checking in and storing our bikes we went to the pool. Boy was that water cold. A while later several of the Caterpillar men came to the pool and we told each one how warm the water was.
We showered and rode back to town for some more shopping. We ran into Laura and Rich at a store - they too were shopping. I found name necklaces for Kelly and Katie but they didn't have one for Kerry! Panic! The young lady working at the store tried in vain to locate one. Luckily I found a cute little Beanie Baby dog for Kerry. So the toughest part of the tour had been completed: a little present for each daughter.
Having completed this most important task we retreated to the nearest tavern for a mid-afternoon libation. We visited a place called Doyle's, an Irish bar. I had a pint of Harp while my partner had a Bud Light of all things! They had a lot of humorous bumper stickers plastered on the wall behind the bar.
On the way to the state park we took a detour and went to visit the elephants. At least we were told there were elephants, but we didn't see any. Perhaps if we had stayed longer at Doyle's tavern then we, too, could have seen the elephants, wink, wink. We had stuffed chicken and ribs for dinner - very good. A snafu happened and the drinks were late to arrive. After dinner the kind IDNR folks put on a slide show of the images that they had taken of the tour. Nice idea although the bright sunlight made it a challenge to see the screen.
At the tour meeting we learned that youngest rider was 15, and the oldest was 74! Very impressive on both counts! There were a total of 11 riders age 70 or older on this tour. We can only hope that we can do this sort of thing at that age. We also learned that Karl K. had surpassed the 100,000 mile mark on this trip! Another impressive feat. Karl said he had ridden a total of 100,000 miles since 1987, so in 16 years time. Later the various bike club took turn getting their pictures taken with the GITAP sign. Joe and I had our picture taken with the unaffiliated group.
After returning to the motel, we regrouped and walked across the street to a restaurant and ordered several pitchers of beer since this would be our last night together. I'm not sure what the first pitcher was but a little of that went a long way. The lightweights drank diet, I mean light beer. The real men and Amy drank Guinness. A few of us stayed in the middle. We ordered some fried appetizers to make sure everyone got there limit of fat for the day. A good time was had by all.
Click here for Day 6 Photos.
---
Day 7 - Saturday 06/20/2003
Chain O' Lakes to Oswego IL.
Advertised Distance: 70.0 miles, Our Distance: 72.91 miles
Travel Log: River Paths and Long Drive Home
The last day of the tour. We were up early again, 5:20am. I hope you're impressed by this. We had a nice breakfast of eggs, sausage, bacon, fruit and muffins and then were on our bikes before 7am. We rode various roads for about 12 miles to the Prairie Trail at McHenry. This was a very nice paved path. Somewhere in here was a bunch of twists and turns and nice uphill climb that just begged you to get off the saddle and crank. That was a nice break for the long and straight paths we had been on. We made it to the rest stop at Elgin before the food had arrived so we took a couple pictures and pushed on. We stopped at a Baskin Robbins for a bathroom break and a little ice cream. We continued on the Fox River Trail to Batavia and stopped for a hot dog and cold drinks.
We almost missed the final turn off the trail in Oswego. We later heard some riders say they had missed the turn and ended up a few miles downstream. Laura and Amy were at Fox Chase School greeting everyone upon their arrival. We arrived about 1:30pm. We had a sandwich, chips and a cold drink or two. We took some pictures, loaded up our gear and said our goodbye's. We drove over to the Oswego city pool, had a cool shower and changed our clothes.
Then off to Saint Louis. Joe drove for about and hour or so. True to form, I quickly fell asleep. We stopped for gas and refreshments and switched drivers. I drove the rest of the way to Saint Louis to allow Joe to rest since he had a few more solo driving hours ahead of him. We arrived in Saint Louis about 8pm. It was great to see the family. Hugs and kisses for everyone.
In some ways it was too bad that this was the last day of the tour because the ride down the Fox River had been very nice and scenic. Lots of pretty parks, little shops, neat bridges etc. It would have been nice to have traveled this path with more time on our hands. As it was we were trying to make good time to Oswego because we had a 5 hour drive to Saint Louis and then Joe had another 4 or 4.5 hour drive to Kansas City.
Click here for Day 7 Photos.
Participants:
People came from 10 different states to participate in this ride. Some people came from as far as Florida, New York and Delaware. There were about 140 riders total and they ranged in age from 15 to 74. This included 11 people age 70 or over. The average age was about 55. The riders were 70% male and 30% female. The greater Saint Louis area was well represented with people from Kirkwood, Webster Groves, Collinsville, Florissant, Belleville, Swansea, St. Charles and Millstadt. Lots of people from the greater Chicago area. One anomaly was that there were no Wisconsin riders.
Recommendation:
I would recommend this tour without hesitation. It was very well run, took advantage of many miles of great Illinois trails and paths, visited several very nice state parks and neat little towns, it was a comfortable size (limited to 150 riders) and it was a nice blend of trails, paved paths and roads.
Acknowledgments:
Thanks to Joe for helping me remember all this stuff and for riding with me again. Thanks to Karl K for his input. Thanks to Laura Kuhlman and Chuck Oestreich for providing some of the official details that I have included here. Thanks to LIB and IDNR for a great tour and all their hard work! Thanks to Amy Madigan, of the IDNR Staff, for creating and sharing the GITAP logo. Thanks to Kelly Kuhlman of KK Graphic Design for creating the GITAP shirt designs and for sharing them. Thanks to Peter Turula for sharing his Sand Prairie image.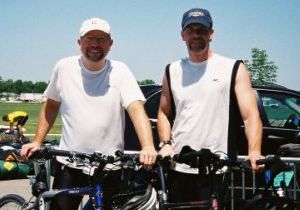 Rob and Joe smile after completing the 7 day and 476 mile GITAP 2003 Ride.
---
---

Contact the
Copyright © 2003-2003 Robert P. Anderson