---
PHOTO QUALITY AND LINKS
"A picture is worth a thousand words; a slide show is both". -Anonymous, 'Demented Thoughts', (c) 1992-1996 Warren Young.
---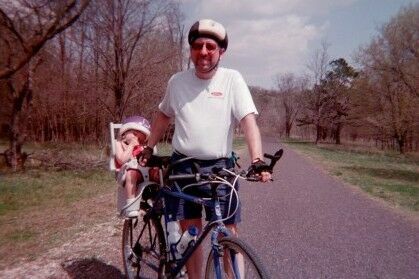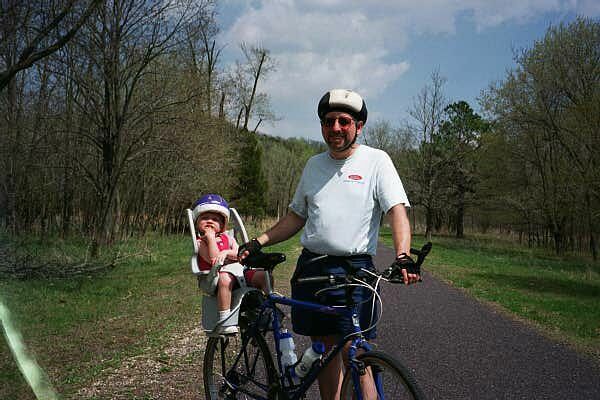 These two pictures were taken at the place but different times of year, correct? The top picture (28k) was taken in the fall and the bottom picture (43k) was taken in the spring, right? Actually they were taken at the same place, on the same day at the same time, perhaps a couple minutes apart. If you look closely you will see that we are dressed the same, same water bottles, helmets etc. So what's the difference? The top picture was taken on a Walmart disposable camera ($4) loaded with 400 speed film, processed at Snapfish and the low resolution image downloaded from the internet. The bottom picture was taken on an Olympus Stylus Epic Zoom 80 auto-focus camera ($150), Fuji 400 speed film, processed by Kodak Picture Processing and copied from a Kodak Photo Disc. The bottom picture, while far from perfect, is a much truer representation of the actual scene. Both photos were taken by Katie, age 5.
Obviously there are a lot of variables at play here: camera quality, film quality, processing quality and digital image resolution and quality, color balance etc. These images are meant to give you an idea of the variability of this stuff. Depending on the quality of the result you are looking for it may be worth it to use better equipment, film, processing etc.
These images were taken on April 8th, 2001 at Route 66 State Park in Missouri, on Interstate 44, a few miles west of Saint Louis. This area was once a small city by the name of Times Beach that was closed down in 1982 after dangerous levels of dioxin were discovered. It became a Superfund site and you can read all about it here. It is bounded by Interstate 44, the Burlington Northern railroad tracks and the Meramec River. Katie, Kerry and I went for a nice bike ride on this day. We rode about 10 miles and saw 2 snakes and a dozen, or so, deer.
Sharp eyed viwers are wondering what the white, circular image is in the lower left hand corner of the bottom picture. It is a light leak in the zoom lens of the Olympus camera. The problem started a couple months prior to these pictures and it occured in about 20-30% of the pictures on any given roll of film. We had to send the camera back to Olympus for repair and they replaced some major parts. The camera has been working fine since then.
---
All images copyright Robert P. Anderson - all rights reserved.
Katie Photos 2001 on Snapfish (27 images)
Kelly Photos 2001 on Snapfish (27 images)

back to: Top of this Page | Home

---

Contact the
Copyright © 1996-2003 Robert P. Anderson