---
BROTHER DAVE'S BOAT4
"Believe me my young friend, there is nothing - absolutely nothing - half so much worth doing as simply messing around in boats."
- Kenneth Grahame (Wind in the Willows)

---
To see additional pictures visit Page 1, Page 2 and Page 3.
Below is an email my brother received about his boat. The email author and his dad were the original owners and he provided some interesting history on this sailboat. It's neat that Thom took the time to write this email and contact my brother.
Sent: Friday, August 23, 2002 2:05 AM Subject: kittiwake

Hi,

I found your name in the registry as the owner of Kittiwake #216. My dad and I were the original owners, Willard and Thom Mantell. I remembered the hull number because I used to always make drawings of the boat. But just to confirm it, I just watched our super 8 home movies of the launching and maiden voyage.

My dad was a pilot so we flew from the Olatha airport to Louisiana to the Kenner factory to see the boat during production. When we arrived, they were smashing the hull as they mistakenly used the gel coat that they used in their showers of their larger boats. So they had to start over.

We originally had the boat moored at the north shore of Lake Pomona, and after a couple seasons they built Lake Perry so we moved out there. Where do you keep it now? One winter we had the boat on display in a mall in Overland Park near where we lived. It was the nicest Kittiwake of the little fleet four or five at lake Pomona. I always liked the unique green trim. The boat was named Stargazer.

My dad and I would sail all day and into the night. He would wake me up in the middle of the night so I could pick up the mooring. I see you have her named Misty Lady. That's interesting because my dog's name at that time was named Misty.

Growing up sailing in Kansas was good experience. I recall the wind was very strong at times. I know the small craft flag was flying up on the dam, and we had the winches in the water while everybody else was on the shore. My dad was in the navy so the weather didn't faze him. One night we came in on bare poles as the tornado sirens were sounding. We enjoyed that boat in lots of wind. I was just in grade school and junior high then. Kittiwake 216 began a lifelong love of sailing for me. We then sold the boat and moved to Ft. Lauderdale and later to San Diego. I currently sail an Ensign 22, also a Carl Alberg design. Someday I'll name one of my next boats Stargazer II.

If you have any pictures you could send, I'd love to see it. I'm glad you're able to enjoy such a nice boat. I remember it was a very strong, great boat.

Thanks, Thom
---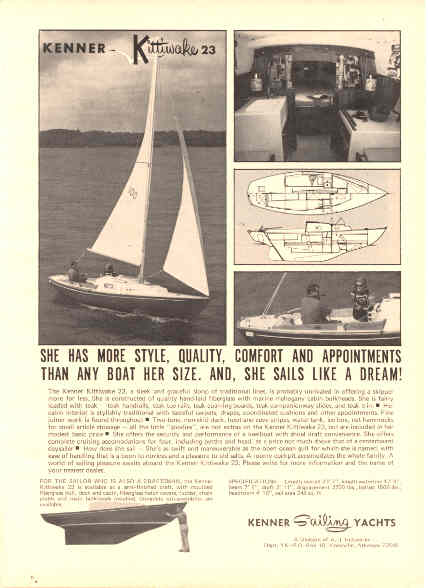 Boat advertisment from Sailing Magazine , 1970.

---
back to the Top of this page
Visit other Boat pages: Page 1, Page 2, Page 3
return to the Main Page (Index)

---
Send Boat Comments to: Skipper Dave
Send Webpage Comments to:
Copyright © 2000-2003 Robert P. Anderson